Rev. Linda is a familiar face to many, and those who don't know her will find that she's down-to-earth and friendly. Rev. Linda has been with us since 1998, with a little nine-year detour to Unity of Roanoke, VA, where she was the lead minister from 2011 until 2019, when she moved back here to be with her family.

While here, Linda obtained her LUT in 2002, and went on to join the Unity Field Licensing program, having been ordained as a Unity Minister in March of 2008. Somewhere in there, from 2000 to 2004, she found the time to attend classes at UTA, graduating Magna Cum Laude in 2004 with a BA in Philosophy.

Linda excels at communication and is a dedicated teacher, well versed in Unity principles and texts. She enjoys the process of positive transformation and assists with it however she can, with an emphasis on community focused growth and interactions.

Linda and her husband, Riley, live in Hurst. They have two grown daughters and four grandchildren. In her time away from church, Linda enjoys being with her family, traveling, and reading.
A Chicago native, Mary moved to Texas over 35 years ago, settling first in Southlake, then in Grapevine, where she's lived for about 30 years. She worked in corporate America as a business analyst and manager for most of her career before coming to Center of Unity as the Administrator.

Mary began attending Center of Unity at her daughter's request in February of 2001 and, like so many, immediately found "home"; she says she came for her daughter and stayed for herself. She has served on the Board of Directors as the President, has held many volunteer positions, and currently coordinates the Care Team, the Center of Unity Prayer Chaplain group.

Outside of the office, Mary enjoys preparing vegan meals, reading, working in clay, and writing. She lives in Grapevine with her cat, Preeda. Her son and daughter-in-law live in Roanoke, TX, and her granddaughter and great-grandson live in Chicago.
Amber first began working in the bookstore and office at Center of Unity in 1999. She soon became the Administrative Assistant until she left to pursue another career opportunity in 2005. In 2014 she received a call to returned to COU. Amber started back as the Administrative Assistant but quickly became the Media & Youth Ed Director.

Amber, her husband, Jeff, and their children enjoy preparing and participating in a wide variety of activities at the church, such as the monthly church luncheons, patio parties, birthday banquets and much more.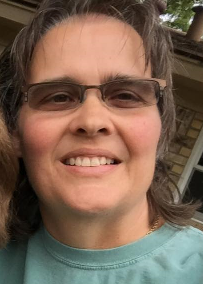 Born and raised in Texas, Karen has lived in Bedford for 14 years. She graduated from Tarleton State University in 1989 and worked for the Federal Bureau of Prisons, where she retired in 2015, as a Security Specialist for 25 years. Her sister found Center of Unity in 2013 and began bringing her family here. The people and philosophy of Center of Unity clicked with Karen and when the Office Administrative Assistant position opened, she accepted it and has worked in the office for 4 years.

Karen has held a number of volunteer positions and is currently a member of the Safety Team, ensuring the well-being of our congregants. She also serves on the Finance Committee.

Outside of the office, Karen enjoys time with her nieces and nephews and the rest of her family. She also enjoys cooking, gardening, travel, and casinos. A passionate advocate for animals, she lives with her rescued pup, Jericho.
As a retired physician, Kenny brings precision, determination and structure to all that he touches. His extraordinary listening ability affords him the gift of diving deeply beneath the words to understand what one is attempting to express and get to the core point. His vision for COU is to be, "A tremendous spiritual force and to increase our presence in the community." Kenny says, "Unity has become my rock; the place I have committed to as my spiritual home."
Juneria has been coming to COU for over 19 years and has served in many capacities. She is a retired educator and has served as a Principal of two middle schools and as an Assistant Superintendent of a school district. She finds that volunteering , "...enhances my spiritual wholeness. Our Father Mother God has provided me with an abundance of gifts and surrounds me with unconditional love. God has greatly blessed me with these wonderful opportunities to SERVE in diverse ways so, I, too, can reach out and spread joy, love, enthusiasm, support, kindness, caring, etc."
Jeff has over 25 years of experience in marketing and is the father of five children. Jeff enjoys cooking at our patio parties because he can engage with congregants on a personal level. His vision for COU is to be,: "A full house of like-minded friends and family that want to better their lives and the lives of their community with God. We are a light on the hill." Jeff believes, "Unity is the core essence of Jesus, accepting all, loving all and providing a home for every faith to experience God."
Sharon has been a member of COU since 1986. She has volunteered in many capacities. She is a Licensed Clinical Social Worker and is experienced in public speaking. She spent the last 10 years of her career with the Veterans Administration assisting and implementing organizational change. Sharon describes herself as a "people person." Sharon and her husband, Wes, have a vacation home in New Mexico where they spend the summers. Sharon has experience in "telecommuting" and working remotely. She is confident that she could participate in meetings and serve effectively at all times.
Matt was born at Parkland Hospital and raised in Irving, where he's spent most of his life. He moved to the H.E.B area with his wife in 2009. Matt has worked as a medical biller for the past 14 years. He and his wife, Nicholle, found Unity in 2015 while searching for a spiritual community more in line with their social values. They found Harmony Fellowship of Fort Worth and felt very at home with the Unity teachings and values. They then discovered Center of Unity was just around the corner and decided to try it. Matt has served on the security team and Nicholle serves as volunteer coordinator. Matt enjoys reading, writing, music, camping, studying history, and watching movies with Nicholle.
May you always be overwhelmed by the Grace of God rather than by the cares of life!
Phyllis Lantvit began attending Center of Unity in 2012 and has been a member since 2013. She has volunteered since she began attending, and has served in many capacities, including ushering, serving on the Care Team, and volunteering whenever needed, often setting up for and cleaning up after, potlucks. Of these, Phyllis feels that serving on the Care Team has been the most rewarding, saying she has been spiritually changed by praying with people in need of prayer.